Description
Thailand – Amazing Phuket Diving/
Snorkelling Package
Scuba diving at Phuket Islands is simply fantastic. Most of the dive sites are close by. The marine life is abundant. Divers enjoy warm waters all year. The Phi Phi Islands are one of the most dramatically beautiful locations in the world.  The scenery from the surface is absolutely stunning; colossal emerald green monoliths rising straight from the sea and soaring to heights of more than 500 meters.  Underwater, these towers shape a rugged, interesting environment for scuba divers, and over time the elements have created caves, overhangs, and swim-throughs in the soft limestone rock.  It is best to explore the islands on Phuket Liveaboard.
Phuket Diving – Scuba diving in Phi Phi ranks amongst the top 5 dive destinations in Thailand. Limestone cliffs rise dramatically out of the sea and plunge straight back down underwater, forming the colourful soft coral walls for which the islands are famous.
Not a diver yet?
Scuba diving is a great way to share life experiences with your friends and family members and to be in close connection with nature. Plus, a Scuba Diving certification is a gateway to new adventures and travel destinations. Once a diver, always a diver.  Most scuba divers will tell you they wished they had been certified sooner.  Don't think twice.   Check out the special price for Open Water Course for this trip!
4D3N Phuket Diving/Snorkelling Package
Daily trip from Chalong Bay
Amazing Phuket Diving/Snorkelling Package
| Package | Rates per diver S$ | Snorkelling |
| --- | --- | --- |
| 4D3N - no eqpt | S$495 | S$425 |
| 4D3N + Reg + BCD | S$565 | NA |
Key Facts:
Depth  : 3 to 20m
Visibility : 5 to 30m
Experience Level : Good for all divers
Boat ride : about 100min
Diving Season :  all year round
Highlights:
Marine Life:  Abundant with Varieties
Coral  : Colourful and healthy corals
Reef   :  Limestone Rock, Walls, Coral Gardens
Highlights: sharks, caves, vertical walls, colorful soft corals
Great for: Wall dives, value-for-money, snorkelling
Package includes:
Return transfer from and to Guesthoouse to Chalong Pier
Breakfast and Lunch on board
Guesthouse accomodation (Quad sharing)
Airport 2 way transfer to and from Guesthouse
All dives include use of boat, tanks & weights, dive guide
Excludes:
Airfare
Airfare with travel insurance
Marine Park Fees
Equipment rental charges
Itinerary for 4D3N (for 5D3N – add additonal 1 day of diving) :
Day 1  – Arrival
Depart from your destination
For Singapore departure, see suggested flights below
Arrive at Phuket International Airport
Transfer from Phuket International Airport to Chalong Bay Guesthouse
Day 2 and Day 3 – Diving 
07:30  – Meet at Guesthouse lobby
08:00 – Arrive at Chalong Pier and board dive boat
            – 3 boat dives/snorkelling
            – Breakfast and Lunch on board
17:00 – Return to Chalong Pier
17:30 – Return to Chalong Guesthouse
Free and Easy
Day 4  – Free and Easy
Free and Easy
(day excursion can be arranged; indulge in shopping, food or treat yourself to therapeutic massage)
Airport transfer from Chalong Guesthouse to Phuket International Airport
For flights from Phuket to Singapore, see suggested flights below.  Please consult us on "no-fly" time before you book your return flight.
Note:
No of  dives  subject to weather permitting conditions
No of dives on last day subject to flight timing of divers
Snorkeling activities available for non-divers
All Prices in Singapore Dollars based on Payment by cash.
Big Bubble Centre reserves to right to adjust the prices according to booking dates, black out dates, high season surcharges, changes in government tax and any other changes without prior notice.
SUGGESTED FLIGHTS FROM SINGAPORE TO PHUKET
Suggested Flights From Singapore to Phuket
Airline
To Phuket
From Phuket
Tiger Airways
Dep SIN 18:20PM
Arr HKT 19:00PM
Dep HKT 19:50PM
Arr SIN 22:50PM
SilkAir
Dep SIN 18:35PM
Arr HKT 19:20PM
Dep HKT 10:15AM
Arr SIN 13:05PM

Dep HKT 20:10PM
Arr SIN 22:55PM
JetStar
Dep SIN 20:30PM
Arr HKT 21:20PM
Dep HKT 09:45AM
Arr SIN 12:40PM

Dep HKT 22:00PM
Arr SIN 00:50AM (+1)
There are more than 15 different dive sites at Koh Phi Phi with many rugged walls, interesting caves and cavern penetrations. Swim-through entrances are often obscured by dazzling clouds of glassfish and gorgonians. Sea fans harbour pipefish, seahorses and shrimpfish, keeping even the most experienced divers entertained for days.
Other dive profiles include vertical walls that plunge from the surface to over 25 meters. On these walls growing in every nook and cranny are found a profusion of soft corals, large orange-colored fans, black corals, and long stringy sea whips. There are several unusual types of coral that can only be found in the waters surrounding the Phi-Phi Islands including a one meter high white coral bush that is shaped like a Christmas tree complete with little ornaments.
The Phi Phi Islands offer a remarkable variety of dive sites concentrated in a small area. One of the most popular dive sites is located at the Southern tip of the small island of Ko Bida Nok. In a shallow bay on the Eastern side of the island are found huge gardens of stag horn and star corals and incredible numbers of colorful reef fish. In spite of diving visibility often being limited to 5-20 meters the Phi Phi Islands are likely to remain among the most popular diving locations Southeast Asia.  Get yourself onto Phuket Liveaboard to discover the amazing underwater world in phuket.
Koh Phi Phi offers white sandy beaches, warm emerald waters, amazing towering limestone cliffs, and this is just the start. Visit the islands and experience the wonderful southern Thai people and their warm friendly culture. By day, Koh Phi Phi offers hundreds of exciting adventures, such as diving and snorkeling of course, but also hiking, camping and rock climbing.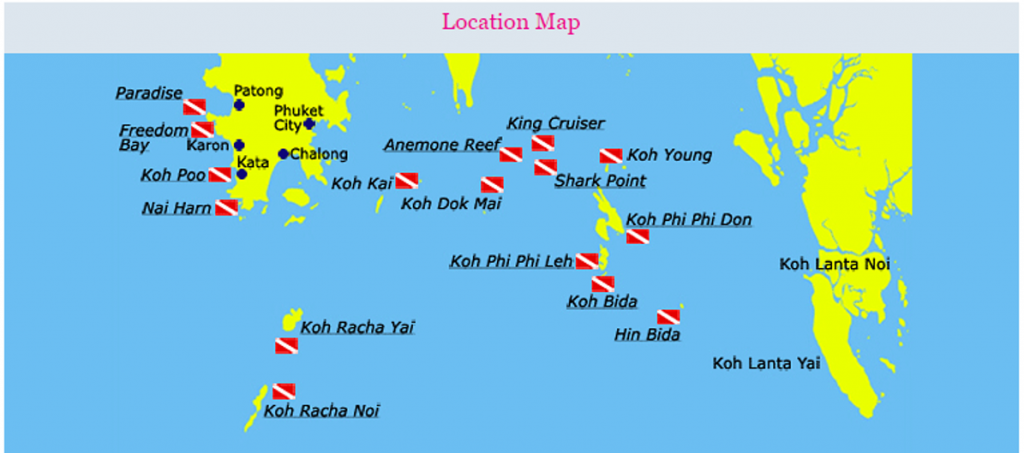 Limited Space Available Book Now!