Description
The fun starts as soon as you sign up for the PADI Open Water Diver Course. The Open Water Diver course is the most popular dive course in the world. You will be taught the foundational knowledge and skills you need to dive safely with a buddy, independent of supervision. You don't have to be an expert swimmer nor do you have to have had any experience of diving.
We offer flexible time and performance based, which means that we can offer the program on a wide variety of schedules, and paced according to your needs.
Learn in 3 Simple Steps
The PADI Open Water Course assumes that you have no prior experience of diving. There are three parts to the course: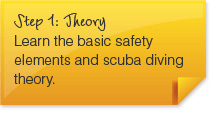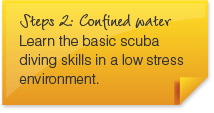 Prerequisite
Minimum age: 10 years old
Swim 200 meters, any style of your choice
Or swim with mask/snorkel/fins for 300 mtrs
Float on water for 10 minutes.
What's Included
PADI Open Water Course manual
PADI RDP table
PADI certification fees
PADI certification card
Free Dive logbook
Free usage of equipment for entire course
4 Open water training dive / 1 optional leisure dive
3 days/2 nights dive trips
Round trip land and ferry transportation
Accommodation and all meals as indicated
Why learn to scuba dive with Big Bubble Centre?
Because we teach in small group – from 1:1 to 1:4 ratio
Because our instructors give you:

Comfort
Control
Confidence
Competence

Because we are the Quality difference in Diver Education since 1984
Completed Open Diver Course?  What's next?
Most divers continue to sign up for Advanced Open Water Diver Course.  This allows the diver opportunities to explore more dive sites around the world.  Advanced Open Water Diver Course, at times, is the minimum requirement for certain dive sites due to the depth of the dive sites and other factors.   Don't limit our dive sites.  Sign up for Advanced Open Water Diver Course to take your scuba diving to the next level.