Description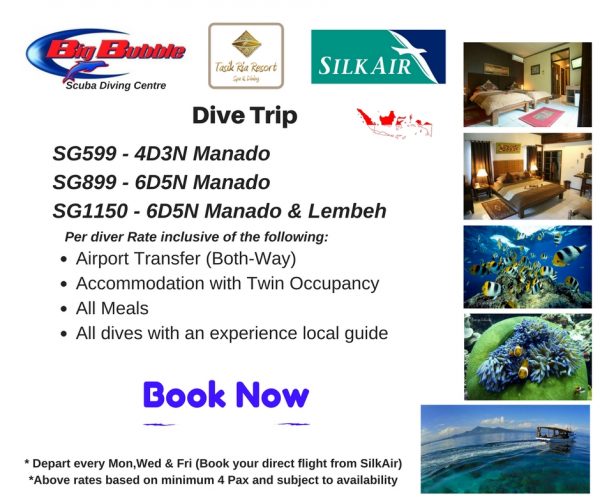 Come and Dive in Manado Now.
PADI Advanced OW Diver Course available @ an additional SGD $199/= per diver.
PADI Nitrox Diver Course available @ an additional SGD $199/= per diver.Book Now!
Dive Manado
Sulawesi features fabulous diving at Lembeh Strait, Bunaken, Manado, Wakatobi . Wakatobi's world-class drop-off is well known for its action and color, with everything from blue ringed octopus and ghost pipe fish to resident sea turtles cruising past soft corals and gorgonians.
Dive into pristine bunaken walls teeming with corals, colour and pelagic fishes. Manado offers spectacular, world-class diving with sites ranging from beginner to expert.  Bunaken Marine Park is home to over 70% of all the fish species in Indo-Western Pacific can be found in this region.
Manado city is the provincial capital of North Sulawesi. Manado is the starting point for exploration of the Minahasa region's many attractions. Fun-loving and extroverted, the Minahasa people live in neat wood frame houses, with fences and flower gardens, giving Manado a European feel.
Scuba diving and snorkelling in 30 over diving sites in Bunaken National Marine Park, nature attractions in the Tangkoko Nature Reserve, and cultural sites in the Minahasa Highland are prime areas for tourism activities. The diving and non-diving activities make it an ideal destination for divers visiting with their non-diving family members.
Lembeh Straits is a 12 km long stretch of water separating Lembeh Island and the mainland. This region is not known for its massive schools of pelagic fishes or congregations of requiem sharks. No, Lembeh Strait has become known as a "Macro-Mecca." This is because of the incredible number of unusual marine animals that are regularly encountered in this area. The majority of small critters that can be found in this place are Sea horses, Mandarin fishes, Squid, Octopus – Mimic, Blue Ring and Coconut, Ghost pipefish, Hairy Frogfish, Pygmy Seahorse, Crabs, Shrimp, Nudibranches, Scorpion fish, Rhinopias, Banggai Cardinal Fish and many more rare and unusual animals.
There are at least 58 different genera and sub genera of corals in the park and an estimate 3,000 species of fish are found in the park. Visibility often exceeds 30 metres and water temperatures hoover around 29 to 30 degrees Celsius.
Getting To Manado
Manado is well connected through its International Airport – Manado Sam Ratulangi International Airport.  Numerous international and budget airlines flies into Manado directly.  The airport is serves domestic flights from Jakarta, Surabaya, Denpasar (Bali), Balikpapan and many more.
From the airport to Manado city, you can choose the two most common land transfers:  Oplet or taxi. Oplet is a public transport (mini van).
Estimated charges from airport to city:
Oplet : between IDR 1,500 and IDR 5,000 per person
Taxi   : between IDR 50,000 to 60,000.
The journey from the airport to city will take about 30 minutes. For comfort and safety reasons, foreign visitors are encouraged to take the taxi from airport.
Recommended Dive Sites in Manado
Here are some of the recommended dive sites in Manado:
Manado – Pulau Siladen
Average Depth    : 20m
Maximum Depth: 50m
Pulau Siladen is the smallest island among of the five main islands  in Bunaken Marine Park and located nearest to Manado.  It is  about 30 minutes of boat ride. There are two diving spots around Pulau Siladen – Siladen and Siladen Utara.  Average visibility as far as 30m.
The wall here is like a book shelf with thousands of ledges, and each ledge houses a diverse range of marine species. This site is particularly rich in nudibranchs and they are often found alongside with Leaf Scorpionfish on the ledges. On top of that, divers can also find a lot of triggerfish, angelfish, parrotfish and wrasse.
Manado – Sachiko's Point
Average Depth    : 20m
Maximum Depth: 50m
Sachiko's Point, Bunaken,  is about 45min by dive boat.  It is one of the dive sites that is filled with large variety of sponges and corals.  You will also be greated by triggerfish, unicorn fish, trumpetfish, groupers, snappers, sweetlips and angel fish.  Average visibility range of 25m.
Manado – Timur
Average Depth    : 20m
Maximum Depth: 40m
Timur, Bunaken,  is located on the east side of Bunaken and about 40min by dive boat.  Timur is definitely one of the dive sites around Bunaken not to be missed.  There is a large variety of fish within the first 5m.   What you can expect to see include Napoleon Wrasse, Bumphead Parrotfish, Golden Trevally, Barracuda, Stingrays, Seabass, Sharks and many more.  Average visibility range averages at 25m.   Some may even argue that it is the best dive spot in Indonesia.