Sipadan Diving
Sipadan – a dive mecca has been indisputably the most famous scuba destination in Malaysia. It is located off the east coast of Sabah, Malaysia's eastern most state, and lies on the north-eastern corner of Borneo, the world's third largest island.
The Sipadan legend has passed through the world's diving community to the extent that all divers with an interest in visiting the best sites in the world, have a resort stay near this small island near the top of their wish list.
Sipadan Island was at the top of Rodale's Scuba Diving Magazine Gold List for 'The Top Dive Destination in the World'. In fact it shared its top spot with 2 other destinations known for the amazing diversity of their marine life – the Galapagos Islands and Truk in Micronesia.
Blue skies, clear waters, convenient diving and tropical scenery, but it is below the surface where this island really excels. The list of attractions is quite staggering and all the more exceptional as it involves plenty of big fish encounters – barracudas, large schools of jacks and marauding bumphead parrotfish. This is one of the big fish capitals of the world!
Everywhere you turn at Sipadan, you'll see turtles, munching on the sponges and algae, or lazing on the wall ledges. If you take the time to look closely at the walls you'll see a wealth of macro life and fish species to rival most destinations, although this is often overlooked due to the other major attractions vying for your attention.
Dive Site Descriptions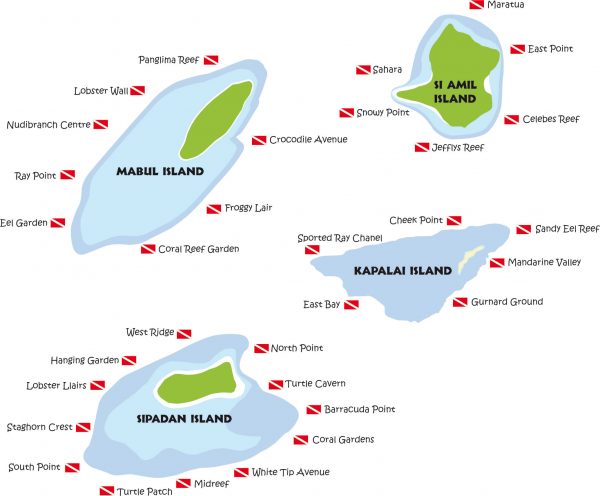 Barracuda Point –  This is one of the favourite Sipadan dive sites. There may be no guarantees in diving, but let's just say there is every chance that you can find yourself in the middle of a swirling vortex of chervon or blacktail barracuda  at this north coast site, one of the most treasured spots at Sipadan Island. Hordes of turtles, vast schools of jacks, bannerfish and snapper are mererly bit part players on this site. A variety of sharks are also likely to be spotted but the real starts of this show are the eponymous barracuda. Find yourself in the eye of the hurricane that is the enormous vortex of barracuda here and you will be simply awestruck.
Coral Garden – Although the temptation of the drop-off is always there, this site is a haven for the underwater photographer. The health and diversity of the coral growth in the shallows atop of the wall, combined with the fact that almost every species to be seen in Pulau Sipadan's waters is on view here, makes this site ideal for long dives devoted to both macro and wide angle compositions.
The Drop Off –  When the island had resorts stationed on it, this site was a mere stroll off the beach where a spectacular 600 metre sheer drop into the abyss would welcome you to the underwater world.  This is one of the dives that helped Pulau Sipadan make its name.  Deep water currents well up against the base of this oceanic island and bring a host of nutriends to the shallows, so as you cruise along this wall, you can observe the abundant marine life.  Sharks, turtles, jacks and bumphead parrotfish will all compete for your attention, while the shallows teem with multi-coloured anthias and dottybacks.  The Drop-off is also an excellent dive dive as the shallow reef and wall come alive with myriaf crustaceans and other fascinating nocturnal critters.  This site is in many ways the signature dive of Sipadan.
Hanging Gardens – In a nutshell, this is a wall dive which begins with a drop-off just over a metre from the surface, descends gradually to a terrace at about 70 metres and then plunges into an abyss. This is the topography here – hence its name 'Hanging Gardens'. The terraces, filled with a proliferation of Dendronephthya Alcyonarians in various pastel colours of lemon, lavender and antique rose overflowing down to the next level, harks back to the mythological Babylonian gardens after which it is named.
Midreef – Lazily decend to your required depth down the vertical wall that forms Pulau Sipadan's Midreef, then just drift along with the current, whichever way it takes you – north or south. Once you begin your dive, it won't belong before you come across this sites most discernable guests – dozens of large green turtles, by now very habituated to inquisitive divers.
South Point – This is a good place to get a bit deeper in the morning as long as you don't mind a thin layer of narcosis-on-toast for breakfast. South Point is one of the more likely sites at Sipadan Island for rare shark sightings such as hammerheads and thresher sharks, both of which tend to stay at depths here of 40+ metres.   Colourful abundant walls, sharks, turtles and schools of fish in big numbers and all the while the possibility of seeing something really exciting such as hammerheads or thresher sharks.  Cruising along you won't be sure whether it is better idea to poke around in the wall or keep an eye for the bigger https://laparkan.com/buy-accutane/ stuff.  As with many of the other sites, there is no hanging around in the blue doing a boring safety stop.  Instead you will want to the use of every breath of air in your tank as you spend the last few minutes hovering over coral gardens with as much colourful life and activity as anywhere.
Staghorn Crest – At this dive site, you will find yourself beginning with a gentle descent along the drop-off, followed by a gradual diagonal descent along the wall, at the shallow end of which there is a garden of staghorn corals. Photographers take note – this site has brilliant light conditions during the afternoons which offers excellent illumination for superb underwater images.  Triggerfish, groupers, angelfish, nudibranchs, shrimps and gobies can keep you entertained close to the reef. Further off in the blue, look out for turtles, manta rays, whitetip reef sharks and leopard sharks.  Occasionally lucky divers even encounter scalloped hammerheads at Sipadan Island.
Turtle Cavern – The cavern is a complicated site with the entrance to the cavern located at about 18 m. Sipadan diving is famous for its population of both green turtles and the smaller hawksbill turtles.   Turtle Cavern is not dived as much these days as it was before the closure of the resorts based on Sipadan Island itself, but it is well worth doing as it is unlike any of the other sites. Before approaching the cave entrance you may will be stunned to see a marauding horde of huge bumphead parrotfish charging past you as you sink down the wall.  The cavern itself is large and intriguing.  This is an interesting dive to add to the other excellent sites in Sipadan.
Turtle Patch – Although you can make a typical wall dive, perhaps the best way of taking in Turtle Patch is just to let the current take you along the shallows, and then you can take in the scenery as it unfolds at its own natural and leisurely pace before your eyes.
Whitetip Avenue – With a name like "Whitetip Avenue", you're probably wondering, does it live up to its name? Well, yes, it does. You can look forward to numerous encounters with schools of gentle whitetip reef sharks. This, however, is only one of the many amazing underwater sights this dive site holds for you.  A coral reef located at a shallow depth before plunging into the 600 metres vertical abyss, Whitetip Avenue is full of unexpected encounters. You'll find yourself in the middle of a huge silver school of bigeye travellies or within a colourful palette of gigantic bumphead parrotfish.
Sipadan Diving Season
The Sipadan dive season is year round and most normally expressed as having the best conditions from April to December, especially July and August. Surface conditions are normally calm, sometimes glass-calm, but there can be small waves making the speed-boat ride to the island a little bumpy, particularly in the rainy season.
The rainy season tends to be from December to March when unsettled weather may result in a decrease in visibility, however in recent years the timing of the rainy season has been less than certain. The most likely months for unsettled weather are January and February. These months represent the middle of the wet season and although Pulau Sipadan and Mabul seldom experience much rain, the water and air temperature can be towards the cooler end of the usual range.
Traditionally green and hawksbill turtles come ashore onto the island of Sipadan to nest between April and September. To visit and dive here during these months should mean an even higher number of turtles, although these creatures are ever-present around the island. In fact it has a high proportion of ever-present creatures, rather than seasonal visitors. The jacks, barracuda, bumphead parrotfish and white-tip sharks can be said to be residents of this oceanic island.
This legendary island is very popular and at certain times of the year there is a greater risk of the diving resorts being fully booked. If you wish to visit during these periods you should book well in advance or, alternatively, select other dates. The busiest periods are March to August, Christmas, New Year and Chinese New Year
Sipadan Reef Summary
Depth: 5 – >40m
Visibility: 10 – 30m
Currents: Can be strong
Surface conditions: Can be choppy
Water temperature: 26 – 30°C
Experience level: Intermediate – advanced
Number of dive sites: 12
Distance: 12 km (25 minutes) south of Pulau Mabul, and 10 km southwest of Kapalai
Recommended length of stay: 5 – 14 days, including the nearby islands
How to Dive Pulau Sipadan
There are several excellent nearby resorts from which to dive here, the closest being on Mabul and Kapalai. There is only one liveaboard in the area, which stays overnight in Mabul. The resort islands also boast some excellent macro dive sites which are a great complement to the breathtaking big fish action of Sipadan. Special local rates apply at many of these resorts for Malaysians, Singaporeans and expatriates living in those countries with work permits.