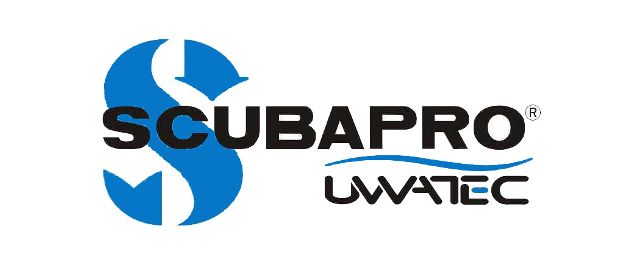 SCUBAPRO first appeared in the scuba diving world in the early 1960's.  It was guided by two men, Gustav Dalla Valle and Dick Bonin.  They brought to the market many innovations for diving that are still being used today.
UWATEC was founded in 1983 in Hallwil, in the heart of Switzerland. In 1987 they introduced their first dive computer, the Aladin PRO. It was quickly established as the standard in the industry. By the early 1990s, UWATEC was synonymous for diving computers.  Joining Johnson Outdoors and SCUBAPRO in 1997, UWATEC continues to be a leading innovator in the industry.
Today, SCUBAPRO remains a premier manufacturer of scuba diving equipment and employs over 400 people in 17 locations spread over 13 countries, covering 4 continents. At least 1 in every 2 employees is a diver and in several countries over 80% are divers, and over a third are instructors. SCUBAPRO is a Johnson Outdoors Inc. company.
SCUBAPRO – Experience Human Factor Diving™ in all your gear
Your gear should adapt to you, allowing you to personalize every aspect of your dive. This is the guiding philosophy of every SCUBAPRO innovation, exemplified by SCUBAPRO's revolutionary approach to product design and development, called Human Factor Diving™.
Human Factor Diving™ keeps you at the center of the experience-before, during, and after your dive-with gear that's designed to be intuitive, comfortable and perfectly suited to you and your diving style. That way, all you need to focus on is having an incredible dive experience.
Gear developed with the Human Factor Diving™ approach is smart and intuitive. With patented features that no other company offers, SCUBAPRO gear works with you, around you, for you, becoming an integral part of your diving life.
For SCUBAPRO, the drive to continually innovate more adaptive gear that lets you get the most from your diving is never over. See how much more you can explore with the freedom of knowing that you and your gear are working as one.
SCUBAPRO DIVE COMPUTERS AND INSTRUMENTS
You've been underwater for almost an hour in unfamiliar territory. The current is strong, the scenery, stunning. Even the most skilled divers rely on their equipment in an underwater excursion. The watery depths are full of unknowns, and while that is part of the allure, it calls for the utmost in preparation. A personal dive computer is the diver's best friend. We employ cutting edge technology without compromising usability. SCUBAPRO dive computers process dive information accurately and precisely, incorporating it on an easy-to-read, high-resolution screen so you can embark on your adventure with confidence.
SCUBAPRO REGULATORS
FINE TUNED SYSTEMS, HANDPICKED BY EXPERTS. The engineers at SCUBAPRO follow a different approach for pairing first and second stages. Each component is first evaluated separately to determine its unique strengths. Using that information, SCUBAPRO then curates distinct combinations that suit specific diving environments. The result is a diverse collection of systems made by divers, for divers.
SCUBAPRO BCD
You're floating in the water and ready to dive head first into the deep blue. The world the diver moves in is constantly changing. It is quite literally a fluid https://laparkan.com/buy-prednisone/ environment that calls for constant adaptation. The buoyancy compensator (BC) is the platform of the SCUBA diving system that provides flexibility and stability. It facilitates precise changes in underwater body position, allowing you to effortlessly see the world around you. SCUBAPRO offers three different categories of BCs offering different buoyancy behavior and trim under the water, as well as stability on the surface. All conform securely to the diver's body to minimize drag and provide a comfortable, non-restrictive fit around shoulders and waist.
SCUBAPRO WETSUIT AND DIVE WEAR
Where will your next dive take you? Whether it's a tropical excursion or an icy expedition, you want the right suit for the occasion. SCUBAPRO wet- and drysuit lines address your individual needs and exemplify our commitment to innovation, geared for your maximum comfort. SCUBAPRO draws on decades of experience, providing you the gear necessary for safe, comfortable and exhilarating dives. Each piece can be purchased individually to create a unique suit that works for you. SCUBAPRO's commitment to the individual diver and SCUBAPRO's emphasis on innovation and quality insure that SCUBAPRO new suit line has been designed and manufactured with the highest grade materials, translating into an exceptional wet- and drysuit array.
SCUBAPRO FINS
SCUBAPRO selection of fins ranges from the first milestone in fin technology ever, the time proven Jet Fin, to the modern and revolutionary concept of the Seawing Nova Fin which exceeds fin performance substantially while reducing diver effort. Through SCUBAPRO wide selection of blade and split fins, in both adjustable and full foot versions, SCUBAPRO provides the right fin for every training level, diving environment and field of diving.
SCUBAPRO MASKS
The most important consideration in mask selection is ?t. No two faces are alike, so SCUBAPRO's broad range takes individual differences into account. SCUBAPRO's basic difference in masks lies in the number of lenses. SINGLE-LENS masks remain a popular choice worldwide because they provide a broad, uninterrupted view. TWIN-LENS masks have become increasingly popular because they typically lower internal volume and are easier to clear. To increase peripheral vision and transfer more light, SCUBAPRO has incorporated side lenses into selected masks. A ?nal consideration in mask selection is ease of clearing. Low-volume masks and models with purge valves make clearing easier, even for the less experienced diver.
SCUBAPRO DIVE BAGS
Travel is a major part of diving and SCUBAPRO appreciates the importance of correctly transporting and protecting your equipment. SCUBAPRO bag line has been developed for diver particular needs, incorporating convenience and comfort into ultra-strong gear bags. SCUBAPRO "Black Edition" bags have been designed using precise and technical specifications for resistance and durability, engineered for long life wear and tear, able to withstand harsh treatment, even in the wettest conditions.